Greece has about 16.000 miles of coastline, making it the 11th longest coastline in the world. The maximum distance between any point in Greece and the sea is 85 miles.
The Greek archipelago comprises of approximately 6,000 islands and islets, scattered in the Aegean and Ionian Sea, of which 227 are inhabited. This makes Greece one of the most multifaceted destinations for yachting. 

Greece enjoys more than 250 days of sunshine (or 3,000 sunny hours) a year.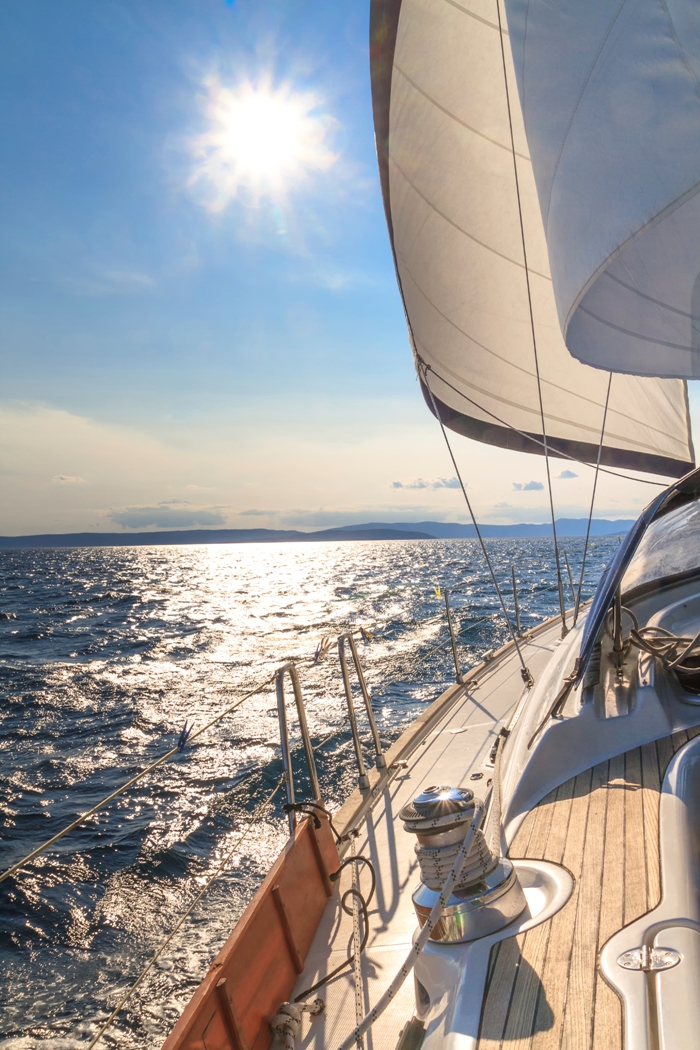 The words thalassa (sea), ilios (sun), gi (earth), and ouranos (sky) are among the oldest of the Greek language, dating back over 4,000 years.
White sugar cube houses with blue painted doors and windowsills is probably the most popular image of the Greek islands and one you will certainly encounter while sailing , especially in the Cyclades. What you may not know though, is that this is not just an aesthetic choice, but one routed on an ancient belief that the blue colour keeps evil away. 

Traditional house, Sifnos
 The windmills, a landmark of the Cyclades, appeared on Greek islands between the 12th and 13th century. Their location was always carefully chosen in order to make the most of the strong north winds. The handling of the mill's elaborate system of axes and wheels, demanded from the mill men skills similar to a skipper's. Being able to tell the weather signs and handle the triangular sails of the mill that set the wheels in motion was necessary in order to grind wheat, barley and corn into flour.  Most of the mills which now adorn many greek islands operate as museums or art exhibition halls. Others were turned into houses or offer an alternative accommodation.
Slotted into the rock, the Monastery of Panagia Hozoviotissa in Amorgos is an awe- inspiring site to visit if you include this island to your Cyclades sailing itinerary. Clinging from the cliffside, 300 m. above the sea level, 40 m. tall and 5 m. wide, the Monastery extends over 8 narrow storeys and took 80 years in the making.
The effect of its imposing figure and mystical aura can be surpassed only by the view from its top most balcony: a secluded beach below and the vastness of the Aegean sea as far as the eye can reach.
While sailing in Spetses, don't forget to stop for a swim at Bekiri's cave, one of the island's most beautiful natural attractions.

One of the most beautiful beaches in Greece to visit on a yacht : Voidokilia beach in Western Messinia (Peloponnese) with its natural semicircular shape offers  quite a spectacle and is named "A Place of Particular Natural Beauty". Crystal clear, turquoise waters surrounded by sand dunes and  a strip of fine white sand with hidden small sea shells complete the unique landscape.